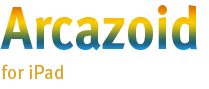 Arcazoid for iPad & iPhone
Join the new generation of Arcazoid. 275 exciting levels of 17 theme sets! Twenty four hours of thrilling nonstop game play! We won't let you sleep!
C'mon, old timers, do you remember how it used to be?
This is what you get at your disposal now:
▪ 3 types of control: tap, «joystick» and accelerometer!
▪ A variety of difficulty levels: regular and hardcore.
▪ Active opponents which are helping you, interfering with you, or even trying to destroy you!
▪ Splendid graphics!
▪ Perfect control mechanism!
▪ Excellent sound!

Enjoy a new version of the good old game!